I Hate the Coronavirus!
It has distanced family and friends.  It has caused death, controversy, confusion, worry and fear.  It's part of the daily news cycle, which one can attempt to avoid, but not escape.
When this first started, I was disappointed that my go-to events in March/April were getting canceled.  March Madness, Festival of Books, Folk Festival, and Pima County Fair all fell victim to the virus.   And as the days passed, schools, movie theaters, concert halls, and restaurants all began to close, and fear and worry began to grow in me.
I didn't know how it was impacting me at first.  I was having trouble falling asleep and even after I did, I would wake up at 3 AM for no reason.  I consider myself an expert at time management.  Every Sunday I review my work, home and social calendars and update a weekly checklist I created that keeps me on top of all appointments and tasks I have to do.   A sign that I was struggling was when I realized on a Wednesday that I was not checking things off my list.  I was losing motivation to complete things, not focusing on any goals, just going through the motions to get through the day, just longing for things to return to normal and fearing what bad news was going to drop next.
What Can You Do?
So what have we been doing to try to cope with this?  Like many, we are finding new ways to connect with people though technology and setting boundaries of how to have in person interactions.
Here's a few things that have really helped.
Getting on the Same Page
One of the most important things Karen and I did was spend over an hour talking about boundaries.  It's important to have answers to questions like, "If your parents invite us over, should we go?"  "Is it OK for friends to come into our house?"  "Should we ride in other people's cars?"  "Should I go to my routine medical/dental appointment?"
This was a difficult but necessary discussion.  Karen values showing up for people, and being told to stay home and work from home is really challenging for her. I'm used to working from home and connecting online and only seeing some close friends who live out of state a few times a year, so we've been coming from different viewpoints in how to make this work.
When these things came up, since we aligned on our boundaries, we were able to make choices without relying on the emotions in that moment, and it has been good for our relationship.
Connecting on Social Media    
We are not big posters on social media platforms and have a few pretty focused groups about foster parenting and Arizona educators that we have followed, but that's pretty much it.   That has changed.
One of the things that was helpful to me was making a post about how I was feeling afraid and asked our Facebook friends what they had to say.  I received a lot of encouragement from many different perspectives, showing me the world is in this together.
As things escalated in other countries, I reached out to connections I have made in the Philippines and India to check up on them. Later, Karen and I prayed for each of them by name.
Posting the activities we did last week was helpful to others and was requested to be done again. In general, posting things that encourage friends to respond has been a good thing.
Reaching Out to Neighbors
Karen had the idea to check up on a few of our neighbors.  She left notes on their doors with our phone number asking if they needed anything.  Two elderly men called back and both were thankful.  One man did need help, and she has been getting him groceries and recently included a portion for him in our family dinner.
Reaching Out to Family and Friends
I have added phone calls to specific friends and family members to my weekly check list.  Hearing how they are doing, how they're struggling, and what funny things have happened have been good reminders of a common theme: we are in this together.
We have been over to Karen's parents' house for dinner and plan to do so again, but while physically distancing outside. We have decided if other family or friends want to see us in person, they can park at our house, and we can walk our neighborhood together.  Or we could do the same in their neighborhood.  Our boundary is not to go to friends' houses or get into others cars, but to meet up and walk outside would be OK.
Last weekend, as a family we played Drawful using Zoom with Karen's family in Iowa along with her sister and parents who live in Tucson.  Four locations connecting on Zoom for the game was fun.
Staying in Touch With Coworkers
I devoted an evening this week to make a fake a financial chart that resembles a chart I commonly create and present at work.  I set it up as though our household was a line of business, and I provided humorous financial explanations like cost in furniture going up since Karen "stole" my office chair.  I sent it out yesterday along with note letting my people know how much I appreciate them and their leadership in this time of crisis.  It was a hit!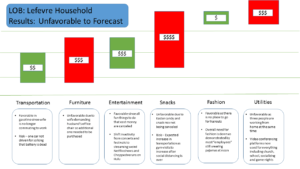 Connecting Within Our Family of Three
We have decided that every Friday, the three of us are going to order take-out from our favorite places and splurge on the meal to make sure they get business.  Karen picked Gui-Lin (Chinese) last week and Donovan picked Chariot's Pizza last night.  We've eaten and then watched a movie together.  I've made sure to go on a walk with Karen most days and have been setting aside time to play a video game with Donovan.
Connecting With the Church
After the first streamed video service, I really missed the post-service time of eating together and talking with people.  So I set up a Zoom meeting to see who would join, and we had about six families that first time.  Eric set up a meeting with a different platform last week, and we had about nine families that time.  It's nice to go around and check in with everybody and see people's faces, pets and kids.
We Are in This Together
There is big temptation to not interact and isolate yourself. Watch Netflix until you fall asleep, socially distancing not just physically but withdrawing completely. However, staying home doesn't mean you can't still show up for others in some way.  I know I need people in my life right now to relate to, complain to, and laugh with. We are in this together, and it won't last forever.