Into the Fire
The Daniel Project was a three-month long community-wide interaction with the Book of Daniel from the bible. Each Sunday, the sermons would focus on a particular section of Daniel and Villagers were invited to interact and respond using writing, art, reading, and music. When we are invited to interact with scripture in ways that go beyond just the preaching of it on a Sunday, we are able to connect better with the text and with God personally.
This page showcases the creations and responses during this time.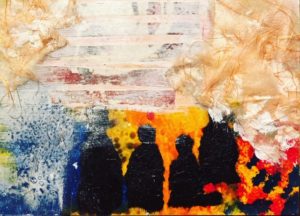 Daniel Project Audio
Readers and Musicians (not in order)
Chelsea Conlee, Emily Lewis, Gareth Markwardt, Jake Bloom, Karac Hecox, Karen Lefevre, Adrienne Crawford, Carena Bloom, Chris Williams, Emily McConnell, Hannah Yeakley, Trizia Williams, Ashley Cousineau, Corey Gilchirst, Corrie Wise, Danielle Flack, Jacob K. Barr, Jacob L. Barr, Jessica Dennes, Jill Sommitz, Keith Brunson, Kelsea Shuldes, Caleb Sommitz, Larry Axon, Lee Sommitz, and Mike Wise
Daniel Project Music
A collection of multiple renditions two songs created for the Daniel Project.
Into the Fire, is about the experience of Shadrach, Mesach, and Abednego as well as King Nebudachnezzar when Jesus intervened and saved them from the fire. Exile Blues is a reflection on the exile of the Israelites. Daniel's Prayer is a reflection on Daniel 9.